Here's to you who jumped out of bed and hit the ground running. Here's to you who got the kids sent off to school in style only to miss the bus by half a minute. At work you kept it all togeth- er without falling apart. Against all odds you got the shopping done and little by little your heart rate slows down, your shoulders drop and you are ready for a stretch of me-time. Now kick back and relax. There's a new YOU in town.
design & comfort
in perfect symbiosis
The best of both worlds
Imagine a world, where you don't have to choose between cutting-edge, new Nordic design and endless comfort. Picture your favorite place and don't settle for anything less than perfection. Design, choice of mate- rial, comfort, adjustability, looks, colors – designed to both look and feel good. Everything in perfect balance, tailored to you and your needs. Open your eyes and enjoy the new series of recliners and sofas. Stressless® YOU is minimalistic and precise in expression, yet uncompromisingly comfortable. Join us and experience the best of both worlds – design and comfort.
Enjoy your individuality together
Life is easy when the world around you adapts to your wishes. The principle behind the BalanceAdapt™-system of the Stressless® YOU collection is to make that adaptation both automatic and simple. This innovative new feature adjusts the sitting angle of your seat effortlessly to your movements – in perfect balance. BalanceAdapt™-system is activated by the weight of your body and works automatically. And individually for each seat in the Stressless® YOU sofas.

The BalanceAdapt™-system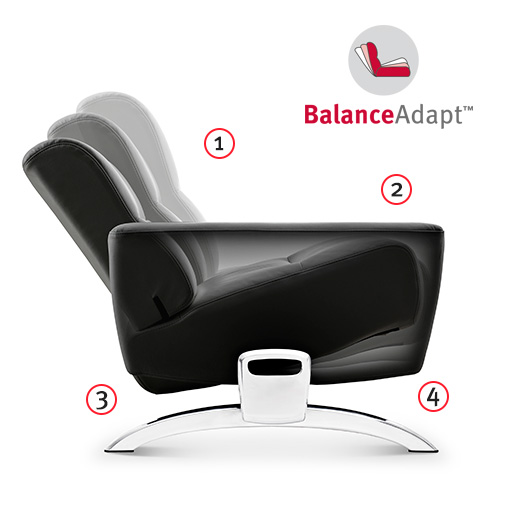 1 You don't have to make special adjustments or settings for BalanceAdapt™-system to work. There are no levers or handles
2 BalanceAdapt™-system adjusts each seat individually for the sofas in order to make everyone feel comfortable when sitting down
3 The BalanceAdapt™ -system works automatically and adjusts the angle of your seat according to your body weight.
4 When you lie lengthwise on the Stressless® You sofa, the seat goes completely horizontal to make it comfortable and natural.